----UPDATE 3/12/20----: While it seems only a handful of people have experienced this issue so far, we want to be pro-active with all of our CrossFire PRO customers in fixing it for good. As a result, starting this week we will be shipping all new machines out with a Snap-on Ferrite choke in the USB cable bag. For all PRO customers that have already received Box 2, we will be shipping out a bubble mailer via USPS with a snap-on ferrite choke and an instruction leaflet (pic below) for installation so please keep an eye out for this!
THE ISSUE: The specific issue covered here occurs when you are able to run a program normally with your plasma cutter off but as soon you turn your plasma cutter on and try and run the program it will freeze FireControl and stop all table motion in the middle of the program. This can also cause the torch relay to stick open which can cause your plasma cutter to sit there and stay on while the machine isn't moving (only way to turn torch off is to turn off power on the electronics enclosure or unplug your USB cable from your computer). You may have to perform a Ctrl+alt+del to close FireControl or sometimes it will reset the connections to the MCB and THC on it's own. Another symptom you might see is that your program is able to cut as normal but you notice that your THC unit disconnects in the middle of the program.
The above issue is caused by high frequency Electromagnetic Inference (EMI), or simply noise, that is generated inside a plasma cutter. This noise can latch onto the low voltage signals inside the USB cable which can jumble the data and affect how FireControl operates. Some older style plasma cutters are notoriously high emitters of EMI, while most modern plasma cutters are purposely designed to limit high frequency emission. All of the plasma cutters on our approved list of cutters are known low frequency emitters and should not have issues running with our electronics and FireControl for most customers. That being said, many factors can affect the level of noise generated with your specific setup and it's possible that some users may experience the above issues even with an approved plasma cutter but it is rare.
OUR TESTING: After the first couple dozen customers started running their machines we noticed that a few had issues with FireControl freezing that seemed noise related. Before jumping to any conclusions, we wanted to see if we could replicate the noise related freezing that these customers were seeing so that we could attempt to fix it. During our extensive development and testing of FireControl with several different plasma cutters we never ran into noise interference like these customers were describing. Our USB motion control boards are designed with onboard noise filtering and we also supply each machine with a double ferrite choke to help the noise problem as well.
We decided that the best way to fix this issue was to try a plasma cutter that is a known noisy EMI emitter so that we could try to replicate the freezing. Back when we started delivering the original CrossFire machines, we had a customer using an old generation AHP plasma cutter that couldn't be used with our old Mach3 electronics because of noise. We had him send us the cutter for our own testing and we encountered the same issues. Despite being a blowback start plasma cutter, nothing we did would prevent Mach3 from freezing when running this cutter on the CrossFire. We were left with no option but to take this particular model off of our approved plasma cutter list. For this reason it would be the perfect candidate for testing. If we could get it to work reliably with FireControl, then we could get any blowback plasma cutter to work as well.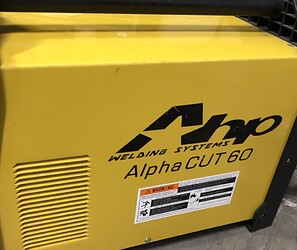 Sure enough, the first time we pulled the trigger on the AHP plasma cutter, FireControl froze and disconnected both the Machine and the THC unit. We weren't able to run any programs because it would just freeze the machine as soon as the arc started. While the noise issues that most customers have with their cutters will not be nearly as severe as with this machine, we figured if we could get this machine working then we stood a good chance of fixing the other less severe occurrences in the field.
THE FIX: Fortunately we were able to fix the noise related issue and the fix is relatively simple. By connecting a snap-on ferrite choke around the electronics end of the USB cable, we were able to mitigate any of the issues related to noise. In addition, looping the cable several times through has an exponential affect on improving the noise filtering as shown below.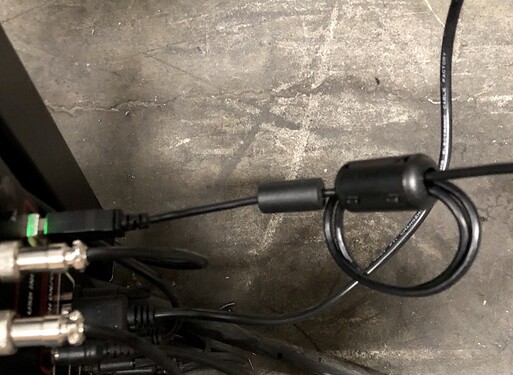 Below is a part we cut out immediately after installing this choke. Before, we couldn't even move past the first pierce. This is the first part ever cut out by this plasma cutter on a CNC machine!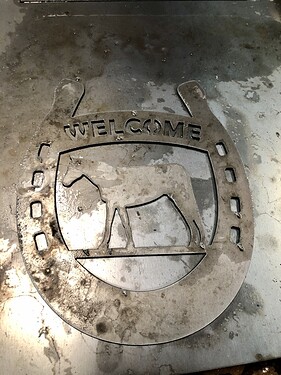 WHAT TO DO IF YOU'RE AFFECTED: If you think that the description of the above issue is happening with your machine, please send us an email to support@langmuirsystems.com. It is also helpful to include a cell phone video attachment showing the issue happening on your machine so that we can be certain it isn't anything else going on. We will send you out a snap-on choke for your USB cable so that you can fix this issue and get back to cutting ASAP! While you wait for your part, try moving your plasma cutter away from the electronics box as far as possible to see if your situation improves in the meantime. Also, remove any coils in your work clamp, torch lead, and Raw Voltage Input Pigtail Cables as these can multiply the noise generated.
Thanks for reading!
-Mike