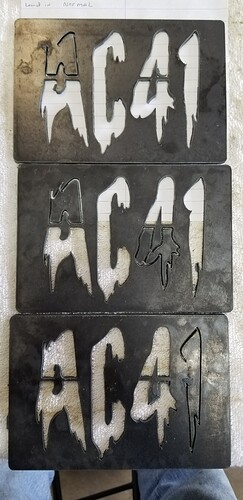 I keep getting random no cuts on my design, torch doesn't fire over different letters on different cuts.
Crossfire XL
Primeweld cut 60 (60amp consumables 0.045) cutting at 35amps/55psi
14 ga plate
90 IPM
Pierce delay 0.7s
Using Sheetcam with outside offset
90 IPM
reverse cut direction
Lead in Arc 0.15s
ground clamp directly on the steel plate
I can change pierce delay and lead ins, amps and IPM but still getting the same issue.
I can go back to lead in points in Fire Control and finish the missing pieces, just wish it would cut it all on the first pass.
Help is appreciated.