There are a number of posts / threads here about leaks in the piece water tray design.
From a shipping / convenience / cost perspective, it makes sense that Langmuir uses this design but it certainly seems to be one of the most common areas for complaints and issues.
Came across this YouTube video this morning: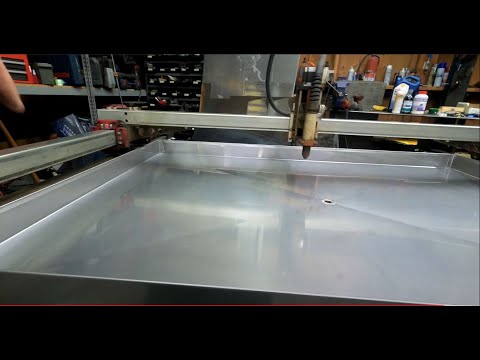 It starts out as a maintenance and cleaning video, but ends up being a full water tray swap due to numerous leaks induced during the cleanup and drain mod processes.
Starting with a clean-sheet design seems like it would offer a couple of advantages:
Fastening method could be designed to remove ALL through-hole mounting screws which could eventually cause leaks
Removing the center seam (2-piece) eliminates the problems with sealing that properly
New design could use a single center-mounted drain with a flush mounted flange for better cleanout
Tray could be designed slightly oversized (and with taller or reshaped side walls?) to help contain "splashouts" on cuts where the torch runs close to the edges of the table.
I'm sure the cost to have a nice stainless tray cut and formed would not be trivial, but given that the CrossFire PRO is such a cost-effective machine… even after spending some extra money on an upgraded 1-piece water table, the total build cost is still far less than other competing products and eliminates the single largest complaint that people seem to have about this product… leaks.
Has this already been done? My Search-Fu didn't find anything obvious, but I'm still new around here and may not have found the FAQ or the "Ultimate Mods" type threads yet.
Thanks!
-TM