do you have a 2t / 4t swicth on the unit?
the little black box on the side yes
the little black box on the side…is that the langmuir divided voltage box ?..then that is not what I am talking about.
maybe someone with a razor weld will step in soon…
ok im not sure what the 2t/4t is
@toolboy ok located the 2t/4t switch on the razorweld. I am currently in the 4t mode
read this…it might help you diagnose some of your issues
yes sir saw that, gonna switch over to 2t and see if it works
How old is your Razorweld 45? Does it have the CNC ports or not? This will help to find out what the issue is.
Thanks for the pictures, I was able to get raw voltage connected but not sure how to install divided voltage input pigtail cables?
You do not use both.
Either you're going to use divided voltage.
Or you're going to use raw voltage.
So if I tap into raw voltage I don't need to wire into Cnc ports?
The only wires leaving the razor weld.
The wires to start the torch. trigger.
And a set of wires to measure your arc voltage.
You only need one set of wires measuring your voltage.
Whether it's divided voltage or raw voltage.
If you already have one hooked up you don't need the other.
Really appreciate the help. So with these pictures it seems like everything is hooked up. You happen to know which adjustments to make the torch pierce initially? I tried changing pierce height but it didn't help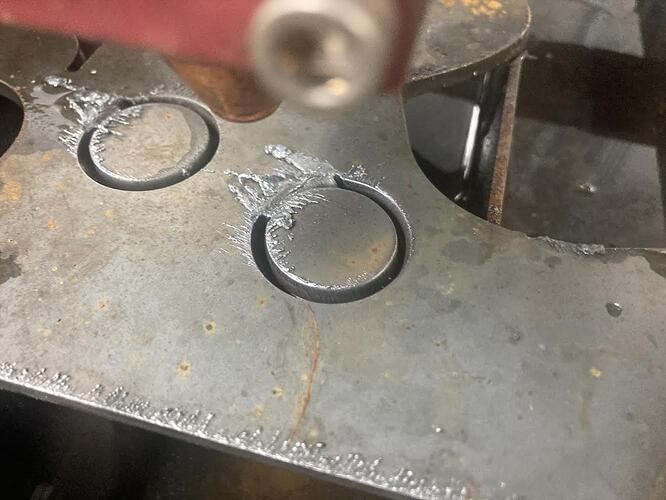 Uploading: 29D67A02-AE1D-4F40-8693-8FA6F601C771.jpeg…
Uploading: F906BB5D-85B2-4624-9306-B8C7D8600B2B.jpeg…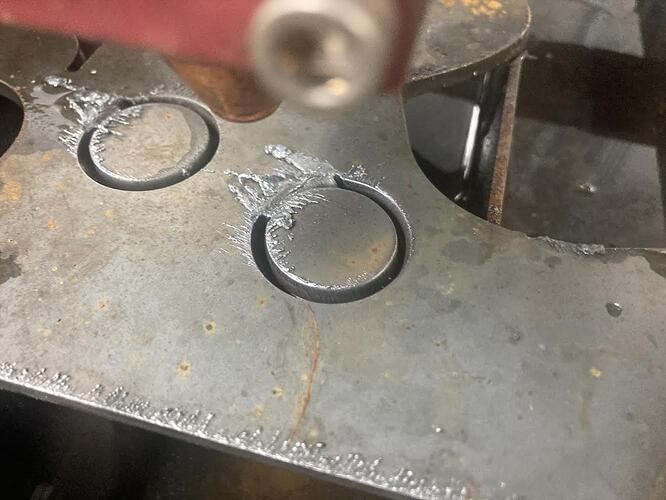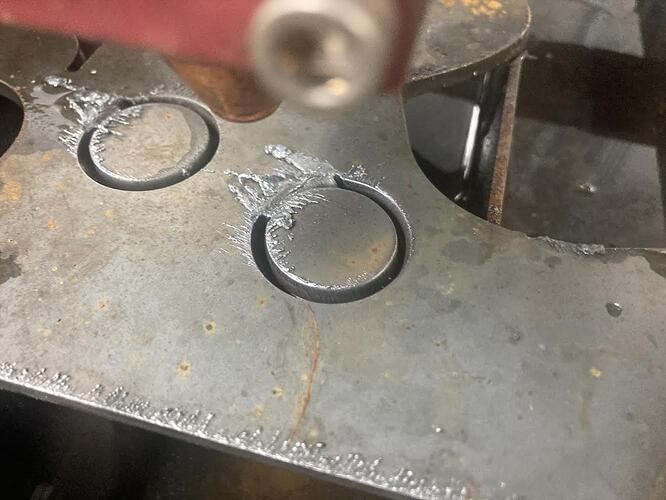 What software are you using to produce this file.
Your parameters would be set up in your cam software.
What are your current parameters?
You can do some basic overrides to pierce delay and travel speed on the top left hand side of the fire control screen.
Without any parameters I would guess that you have several issues in your settings.
No cut at beginning.
your Pierce delay is too short
Top dross
Torch cut height is too close.
And or you moving too fast.
But this is only a guess with the zero information I have about your parameters
Using fusion 360. Pierce delay is 1 second 40 inches per second on 3/16 steel. I had good results before at 40 IPS with same material, I do a run in, but after I wired THC it cut like this. Pierce height is .09 I believe.
Is your torch height functioning correctly?
is it showing any live voltage?
have you gone through the initial setup through the fire control menu?
If it is not use the flowchart langmuir provides.