Dayum. I had been considering getting one made, didn't think it would be $700 though. Maybe I'll just go for a mild steel one.
Sorry but not seeing the return on that investment.
Welded my own out of 11ga 308. At the time it was $600 per sheet.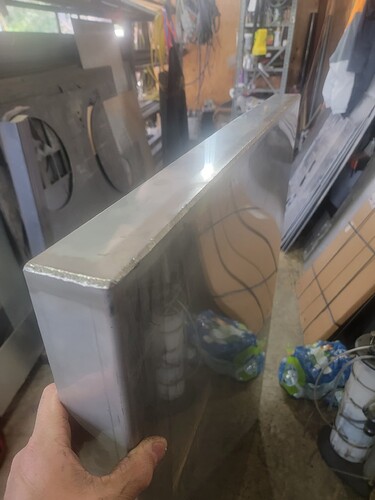 $ 700 was a good price. I disagree, it will be a good investment if you use this thing all the time. The 22ga stock pan is made out of 200 series ss. Crap…
The payback is not having to deal with the leak in the center seam that appeared recently. And, clean up should be easier with one drain that's flush mounted. And I HATE cleaning the water tables.
I agree. Little more volume as well. I wouldn't hesitate to run a 16 gauge mild steel pan though. My slats don't rust so I don't think the pan would. Unless it is more prone to damage from the torch than 22g stainless.
I don't know the answer to this question, but I guess if a person built a steel tray and was concerned they could cut the bottoms out of the old ss tray and lay them in the new tray for extra protection.
Be careful with the height. There is very little room to make it higher due to the Y carriages interfering with it. Maybe .250 higher and thats it. Unless you choose to make it narrower.
That's really nice, but $700! I tig'ed mine together on about 20 minutes, then welded up the holes for the screws. But that pan you got is really the way to go. Very nice!

I would have, but my tig sucks
I would have never fabricated it if it wasn't from me burning a hole in it. I was cutting 3/4 plate at a real slow IPM and it blew out the water from underneath. Note to all of you. Make sure your table is full if you are going cut real thick stuff.
I didn't think much about the height

. I welded small (18 ga.) pieces under the holes to make it easier to tig the holes up. Then welded the tabs onto them to fasten sideways into the table frame. I hope that 18 ga patch didn't raise it enough to interfere. We'll see. Thanks for the input.

So, I'm going to finally pull the old water table and put the new in. I saw somewhere that the original water table is bolted down to stiffen the frame. I'm not going to bolt this one down, should I add some gussets to the corners to stiffen the frame? or is it fine.
I Would…just make sure you gussets do not put any tension on the table when installing them…