Here is what i whipped up yesterday. I need to drill/tap one more bolt.
Thank you sir. Looking forward to seeing it in action.
Nice! I like the clamshell.
w00t! Just got a few more s45 machine torches in that are plug n play and also got a s65 machine torch. looking really nice!

now if the weather will get nicer I can go finish my table and start cutting. May have to remake my little mount though its just a hair too loose
Like to see your cnc mill in action man.
me too! lol
I'm still a novice. Just welded a few bits of aluminum to the end mills…oops. Was a little too aggressive.
Anywho, I just started to make a new machine torch holder, here is a quick video i took with my phone. I apologize for the crap quality

Very cool man! I don't know what I ever did before having a mill. Lol.
Where did you get the nozzle shield
Just got back from a work trip that thankfully put me in Lil_Abners_Kustoms back yard so to speak. I just got home this morning. Steve was super hospitable and an all around great guy. He also made me some machine torch mounts for my Trafimet torch.
I spent a little time tonight check out fitment and positioning for the second mount. I simple inverted to stock torch mount and installed the upper mount from Steve. The second mount will be 3" inches below that position.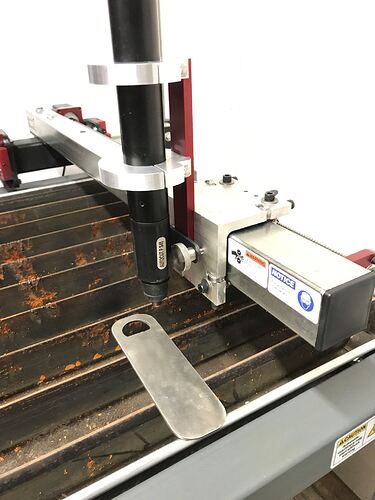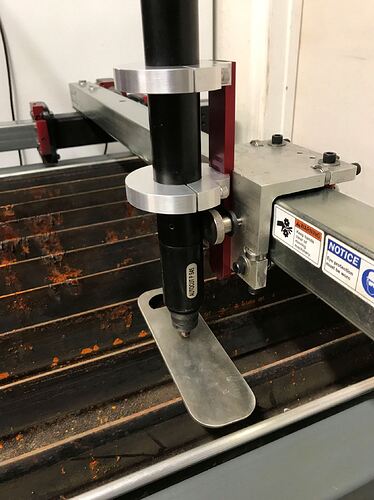 I can loosen the adjuster knob and slip the torch assembly right out.
The two mounts make the torch mount rigid like I was looking for.
With the three inch offset between mounts the torch can be slid just below the slats and roughly two and to three inches above the work for clearance.

Thank You Again Steve my friend
Rich
Really nice job on the mount.
The nice work was all Steve Lil_Abners_Kustoms
I just asked on the forum if someone with a mil could make me a mount. The communication after that is what I would expect when men deal with men. I simply told him what I was thinking. It changed slightly due to materials on hand and I got what a wanted and I think he enjoyed the opportunity

I like it when people help people! and I meant it Steve if you need any bottom end work on that Shovelhead I keep rod sets, crank pins and bearing on the shelf and we rotate crews in and out of YPG several times a year. A shovelhead motor doesn't take up any room on the trucks hauling our equipment back and forth.
I also have to thank Paul gamblegarage for the torch.
Sorry for not mentioning it earlier

That's a really nice torch mount
Thank you for the kind words Richard, it was a real pleasure meeting you and look forward to seeing what you crank out on that table! And yes, I'll be in touch when it comes time to rebuild the Shovel.

Wish I had your skills on the mill. That mount is great
Thanks gamblegarage, I'm humbled by the talent on this forum. I've seen your work on IG too, nice stuff there brother!
I feel that there this something to be learned from almost anyone you meet.
Any chance of getting one of those machine torch mounts? 2 actually, like in the pictures.
Well. Let me stop at the steel yard and check on some remnant this week. Would it be for the same torch, so exact bore an all?