I recently started actually assembling my Crossfir Pro. It's only been "staged" now for a couple weeks at most, waiting on me to finish getting my shop re-done first, so not a ton of delay. I figured I'd add my version and input in case it matters or helps anyone.
First a pic. I got this far on the first evening. Up to this point, everything went very well and I didn't really have any complaints. The whole thing is, in my opinion, well thought-out and engineered to be easy to put together and work well once a guy does it right.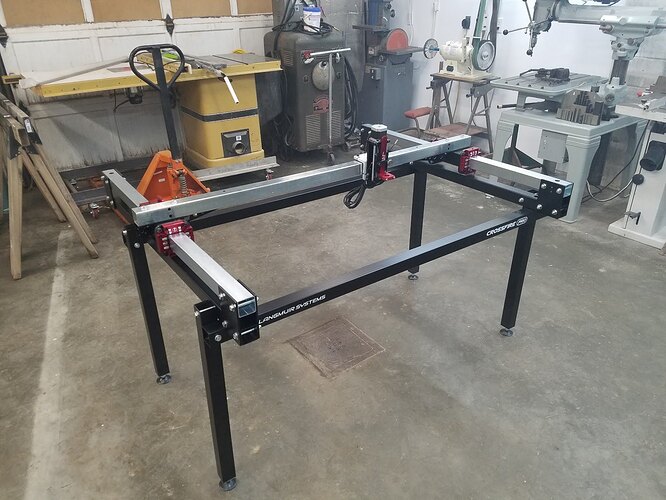 So next steps were to square things up, adjust bearings and install water pan and leg gussets. That's where the hiccups reared up.
the tubing isn't particularly square, so once you assemble it, the thing doesn't exactly fall into place correctly (to say the least). This really only has significance when adjusting the bearings for the carriage bearing block flange assemblies since they are built to bear on 4 square surfaces. You either need to shim the tubes to end up more square than they naturally fall, tweak pretty hard on some connection points or just settle for 3 out of 4 opposing bearing points to function well enough. I opted for the latter and it should be fine. It's an issue worth LS's time, but I'm not worried about the machine having significant function issues from this.

The water pan is obviously designed to be inexpensive and easy to ship. It will work, but there are at least 3 major annoyances with the assembly. a) the two faces that need to mate came to me bowed pretty bad so I'll have to do some minor bodywork (careful hammer & dolly work) so the thing doesn't want to naturally pull the seam apart. This seems pretty clear that it's a quality control issue and not a packaging/shipping thing that LS probably ought to check into. b) the drain(s) is just clunky. The hole is so small I can imagine chunks of debris easily and frequently clogging the hole up and a source of wasted time dealing with it. I made two new drain fittings from brass stock to replace the ones they sent which will take 3/4 pipe for the drain tubing. Even if you weren't going to plumb in anything fancy, the drain hole ought to be larger than 1/4" in my opinion. 1/2" would even probably be much less problematic. I just went with 3/4" because… why not? c) If it weren't made to go together the way it was with the divider between the two, the thing would only need one drain in the first place. I could think of maybe a joining strap to couple the two halves together being better maybe, and a guy could either screw that together or TIG it if he had the capability. Bam! one long pan and a single drain. Oh well.
The lack of depression at the drain points for the fitting to sit below flush is pretty cheezy. Of course others are dealing with this on their own and I will do the same, but I can think of no reason this didn't come already done other than cost savings. It would take 30 seconds at most in a press to dimple that, but whatever. Approaching a fail on that water pan IMO, but in the end it's all minor stuff.
When installing the leg gussets, I gave up on the "self-drilling" screws 5 seconds in. It was just TONS easier to simply pre-drill with a real drill bit and screw those together. The self-drilling idea is not great. Again, it went fine with my own method, so it's just something to notice rather than an actual problem.