Anyone built a grapple for a compact tractor?
I built one with my plasma cutter long before I ever had the CNC table. No drawings, just made templates from cardboard and then traced onto the flat bar I had. Made it to fit the quick attach on my little tractor but I ended up having to modify it just a little to fit skid steer.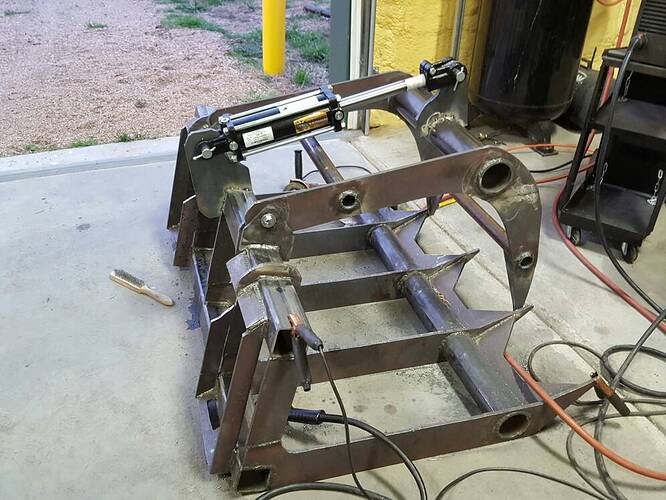 Any idea what it weighs? Guy who wants one has a JD755.
My tractor is a little bigger than the JD755 (20 HP) at 24 HP. I bought a 60 inch wide grapple that weighs in right at 200 pounds. It is a wonderful tool! But @MartyY did a great job. I would guess his weighs in at about 5-600 pounds. This is mine but I lack the skill to make one.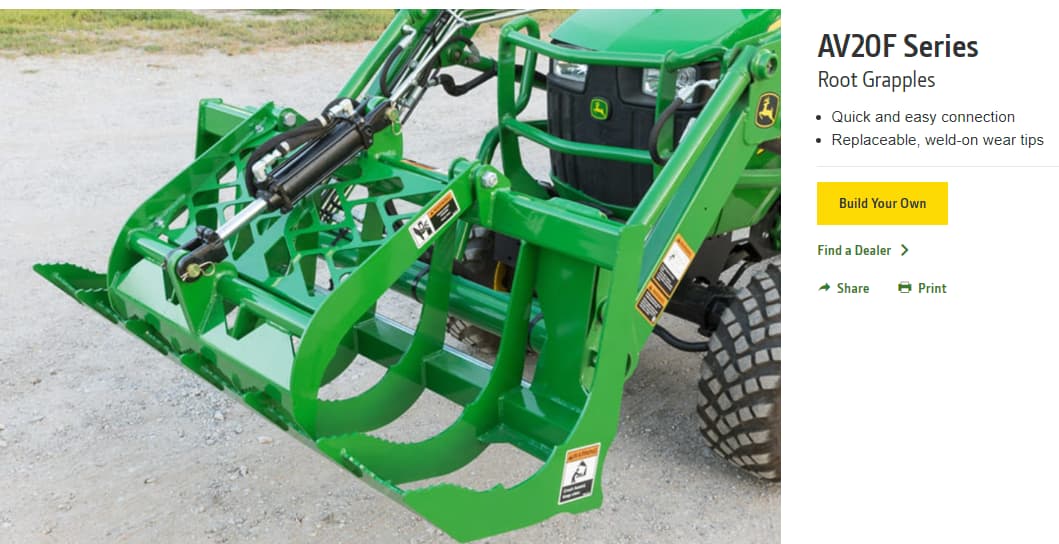 This is for a case W11B articulated loader. It's about 7' wide and I have no idea what it weighs. I built it before the CNC as well using a wooden template for the teeth.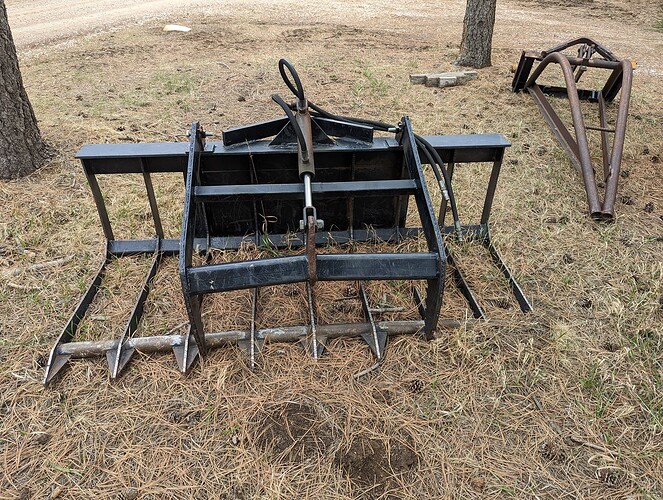 I'd guess ChelanJim is about right on weight. I knew at one time, but I built this in 2015 so memory is a bit weak. Depending on the temperament of the user/abuser you might be able to use a higher strength steel and use 1/4 or 3/8. One thing I have learned is there is no perfect grapple and that is why there are so many designs out there. You just have to find the one that fit most of what you are going to be doing. TractorByNet is a great resource for ideas if you have not found it already.
I think that is a very good point. My tractor is about 5'5" wide. My loader bucket is about 58 inches wide. The wider the bucket, whether you are talking backhoe bucket, loader bucket or root grapple, you will be spreading out the force that you have available to use for whatever your project might be. That means that a narrower bucket or grapple will serve better purpose for actual ripping force whereas the wider bucket/grapple allows for more carrying capacity.
I have 7 acres of trees so moving with a bit narrower profile has served me very well. I can maneuver around the trees better with a 60 inch wide grapple than what the 72 inch would do. I also looked at the weight of the grapple: the lighter the grapple, the more lifting weight can be applied to your intended material to move. Smaller tractors start being a bit strained when they reach their max and it is never the limit you want when you are trying to do a job. If you are trying to rip roots up, you are going to want as much force as that little tractor can muster so a narrower profile has the advantage.
I believe the 72 inch grapple (different brand than what I bought) was about the same price but about 150 pounds heavier. That would have been 150 pounds less for the chunk of log I was hoping to carry.
So yes: The primary purpose will likely lead the design.
Thanks for all the input. I've got a JD2320 24HP and I'm thinking about making one for myself once I see how well his works. I have to be weight conscious too…
Check loader lift specs and also try to figure out what the weight of the existing bucket is. That will give you a good idea in the range you might want to be in.
Mine was a bit too heavy for the tractor and too light for the skid steer. I use it on both as I can get in an not tear up with the tractor where the bobcat likes to tear stuff up if I dont have the room.
Good point: This is my actual loader 440. The tractor is a JD870. But notice in these specs - the loader can lift 1790 pounds but at full height it drops to about 50%. That can really make a difference especially if you are trying to dump something in a dump truck.

You can just calc the weight of your design before you make it.
Weight per foot is punished for every steel shape.
For the plate steel you can use your design software to get your surface area or perhaps even volume.
Add a percentage for misc steel and you will get pretty close.
Unit weight of steel is 490 lb/ft3
Easy math!

If you design in fusion 360 you can simple select your part, right click, select properties and it will show you mass. you will want to change your units over to foot instead of inches if you want to see it in lbs. also shows volume. I use it all time and most recently for a 1/2 yard concrete bucket for a skid steer.
Steve, in no way am I trying to discourage you. I am very excited for this project and I hope you share, if not the design at least photos.
Just to give you an idea of what I went through:
The maker of my root grapple is Frontier. Apparently, they are the only company (at the time and perhaps even now) that John Deere endorses to make implements for them. It took four months for the nearest John Deere dealer to get that grapple for me and they checked with other dealers and it just was not available. Non-John Deere tractor suppliers in my area simply said "There are no root grapples available for your tractor. As far as our suppliers are concerned, they don't even make a root grapple for your tractor. You will need to go to John Deere." The local tractor supplier was who I employed to install the third hydraulic function for the top leaf/jaw. They waited a full three months for me to get the grapple since they did not want to start the installation until they had the actual implement after they had the hydraulic kit (which they got from the same John Deere dealer who I bought the grapple.) JD wanted $2800 just to install the third hydraulic function. They later offered $1900.
I mean what a bunch of …you know what!
So if you get a design, it could be something you could market. Especially when you are talking about John Deere implements.
Good luck and don't give up. I am rooting for you!
There are still quite a few manufacturers that make grapples that will fit John Deere style. Here is one of them that would give you some ideas. Weight looks about right.
They also have the 3rd function hydraulic kit if needed.
John Deere dealers often only push the Frontier line as that is who they partner with. Many other manufacturers out there that build much better equipment.
Yup. In that vane, I have this http://www.greens-machine.com/ and I added bucket teeth.
I love that combination, yes, not a root grapple, but I always have it with me so if I need a bucket I have it, if I have a tree down on a path, I have the grapple with me.
And weighs almost nothing.
That is a good option but with the root grapple you get the weight centered about 2 feet closer to the attachment on the loader arms. This helps with your overall weight that you can lift.
If you have a larger tractor or smaller trees, your option is a very good one.
I did seriously think of your option before getting what I did.
all the time up front in design will be worth it. looks great!
I got to use my grapple today. This tree came down in a wind storm about 3 months ago. Some rot but mostly good for firewood. I should have cut them smaller but made it through this gap.

They are soo handy to have. Saves a lot of manual labor. Often I dont cut them down like I should too. Not a big deal with the skid steer, but hard on the little tractor with all that weight shifting/twisting on the front end. I like that grapple design