what version of sheetcam are you using? icons look totally different than mine.
Try taking a look at your Mach3 general config screen…
Check the settings you've got check marked to match what is in this image for "Distance Mode" and also "IJ Mode"… And then, give it another try.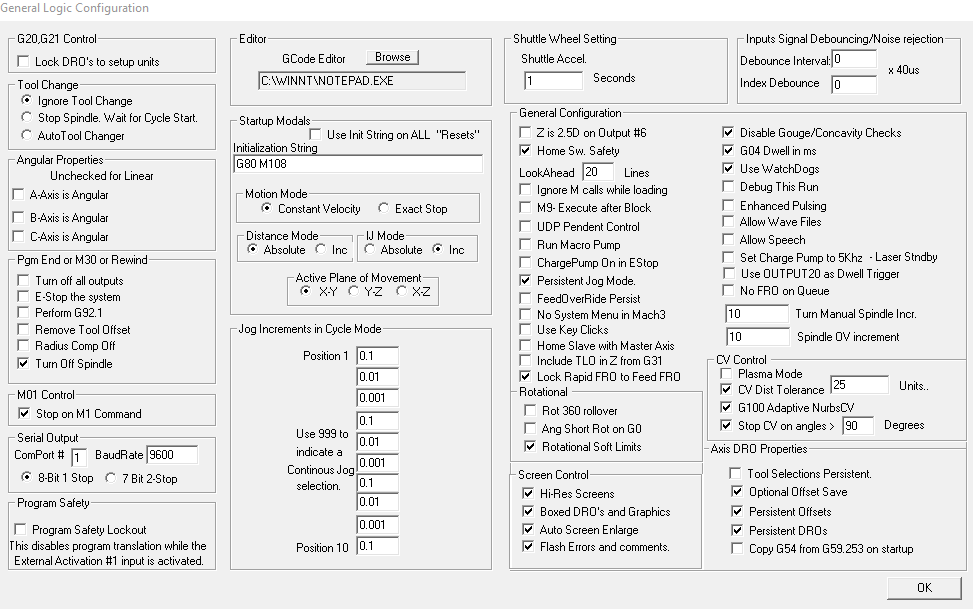 This has shown up in the past and may just be what you've got going on…
GL
Got it. Thanks for the help!!!
Did a few runs with cutter turned off
Did all the changes above.
Plus reloadrd the older version
Everything working good except the feed rate Stuck on 3.94 inches per minute.
9 ipm with the override
Will track that down tomorrow.
Just glad to have it running.
Hopefully the ipm rate will be easy to fix, and the torch will work good.
Inkscape with sheet cam will be fairly easy to use with a little experience.
I recently had 3.9 IPM get stuck in a cut file when using sheetcam.
I think what happened was I hit enter after editing the IPM and it defaults to 3.9 for some reason. I'd be willing to bet that's what's happened for you. I can't remember if it was in the toolset itself or in the operations panel.