I was allotted the use of a 53' moving trailer (like the Mayflower trailers) to set up as a fabrication unit at work (remote job sites). I already have my mill/lathe and plasma table in it, and moving over the band saw, press, drill press, and work tables from another trailer that is overloaded with this stuff, parts and hardware.
I would like to set up an overhead gantry that will be able to roll from one end of the trailer to the other, and also side to side.
Right now I am thinking of some brackets welded to the vertical E-Track rails every 18" and some .125 x 1.5 box tubing mounted on the brackets and 4 V-Groove rollers on a carriage with a 6" or 8" I-Beam going side to side and a beam trolley on that.
I should not need more than a 2k# capacity. Mostly it will be used to carry sheets of plate to the plasma table, with side use of machine moving and the occasional heavy part that needs repaired. Most of what I have to build stuff out of is minimum .250 up to .750. Even a .125 4x8 sheet is a lot heavy for one guy, let alone a 2' x 4' chunk of .500
This is what I have come up with so far…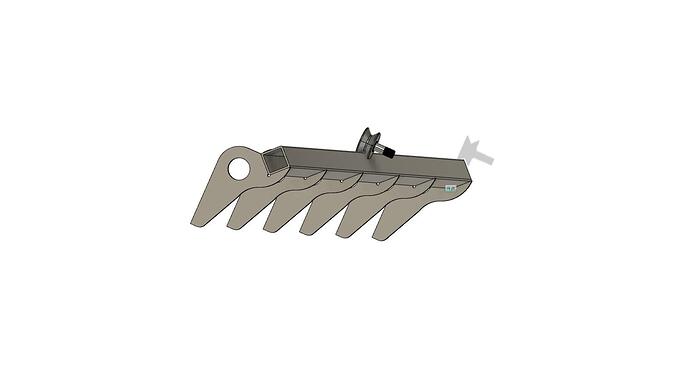 The box tubing in the drawing is 2" I need to resize to the 1.5" since the V roller in that size is rated at 1k# per and there will be 4. Carriage is next. I want to get some suggestions before I go to far and have to start from scratch in case I run down the wrong rabbit hole.
I should note that I am a field service technician for a concrete paving company with the new specialty in fabrication being added to my duties.