Hey everyone,
I want to start by apologizing if this is just another thread that has already been posted 100x, but I am struggling and need some help.
Just got my pro up and running. I am running the tip/nozzle configuration that came with the cut45 cutter. I have been having issues getting quality cuts, so I made a quick test program to try all different sorts of settings. I'll post a pic on here of it.
On these tests, i tried settings anywhere between 30-175 ipm, 30-35 amps, 70-100 psi, .035-.063 ch, .05-.15 ph, .5-1 sec pierce delay. I've tried lead ins and outs and have settled on using lead ins only.
My circle and ellipses look like garbage, my straight lines blow out and the end, and the end of my square is higher than the beginning (I'm thinking this has something to do with my lead in).
Settings for this part in the picture, which is my best attempt yet:
120 ipm
90 psi
.05" ph
.035" ch
.5 pd
30 amps
THC enabled
20 ga stainless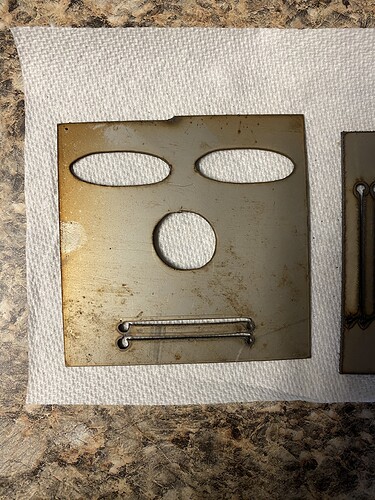 I have 3) questions:
what in the world am I doing wrong and how can I get a better cut?
how do you guys cut straight lines successfully with or without a lead in?
I need lead ins in the rest of my program, is there a way to isolate which objects get a lead in with fusion?
Any help will be greatly appreciated!
Ryan