Hey guys,
I cut the file already, so, this is more of a hypothetical/intellectual discussion at this point. I'm thinking Autodesk has changed something in the toolpath 2D cut profile part of their software, as this is a brand new issue that I have never had before.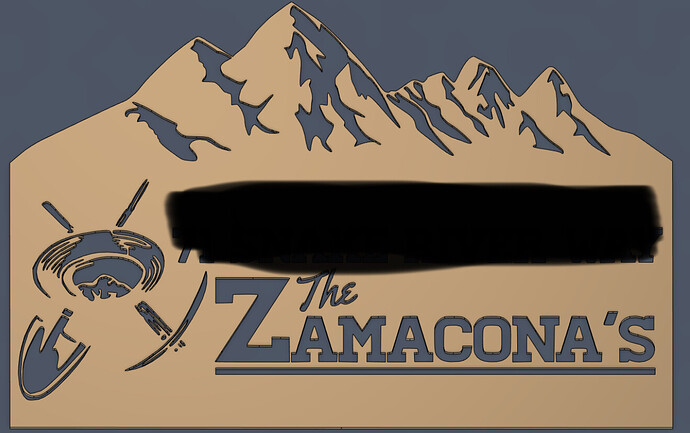 I just went to generate a toolpath for this sign, which measures 30" x 20". I was fully expecting some of the fine detail to get left out, but Fusion wouldn't generate a toolpath for 90% of the interior features. I started off with my default settings, which is basically a 0 distance, 0.050" radius lead in @ 90°. I also usually add my kerf value again in pierce clearance (in this case 0.058"), and I don't use any lead out.
Here's the screwy part. Fusion picked up the fine detail in the pick handle, but it left out most of the letters, including the "Z" which is over an inch thick.
So, I changed my pierce clearance to 0, and it picked up a couple more details. I basically tried a dozen or more iterations reducing the lead in radius and angle a little at a time, until basically I was at 0 pierce clearance, and 0 lead in distance, radius, and angle, and it finally picked up all the letters. Which doesn't make ANY sense at all, because the smallest letters are over 1/2" thick.
Again, the sign cut out beautifully, and what's funny is that every one of the letters cut out perfect like they were exterior features, but this situation really just doesn't make any sense. I'm hoping it's somehow just a setting I've accidentally checked somewhere, but I have a little checklist that I go through every time I do CAM in Fusion.
Anybody have any thoughts?
PS - I selected the cut paths in multiple different ways, as well, from faces, to bodies, and even chains. None of it made any difference…