I need the help of the F360 Zen Masters.
I am trying to design a tray for my slot cutting bits - 32 of them. These will be 3D printed.
I want to do them laying down to take up less space.
Sizes are .5 to 1.5 od, .062 to .375 depth of cut, 2.5 OAL.
Here is a prototype that I made. Yes it looks like crap, but it was supposed to be a fast print to test and 2% infil does not leave much for overhangs, and I stopped it at the start of the second top layer.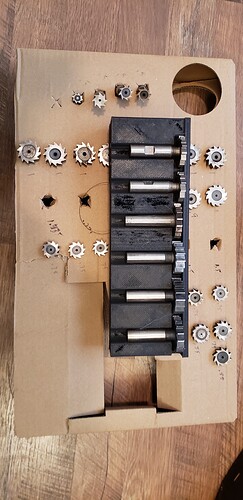 Based off this model by drawing out the shape of the cutters and then extruding the inverse. Took way too long - 2+ hours
Then I tried a different approach by drawing rectangles, extruding the impressions, then filleting the radius in for the cutter and shank.
Still taking to long as I am having to draw and size each individual cutter and shank, but faster than method 1.
I want to do 2 rows per tray, with the opposite side shanks in between so I can get 11 per tray - more as the OD gets smaller.
Suggestions?