Hey guys, just started this weekend with my new system and I have some questions / thoughts that I have not been able to get past. Simply put, I am getting divots on my internal features and I have not been able to remove them.
Here is my setup.
CrossFire XL
Everlast Plasma 52i with PLASMADYNE X45 machine torch.
Standard 35-50A Torch Tip (0.045" / 1.1mm)
75 PSI
21A
12 Sec Post Flow
Barn Siding - Sheet Metal 0.020"
SolidWorks / SheetCam / FireControl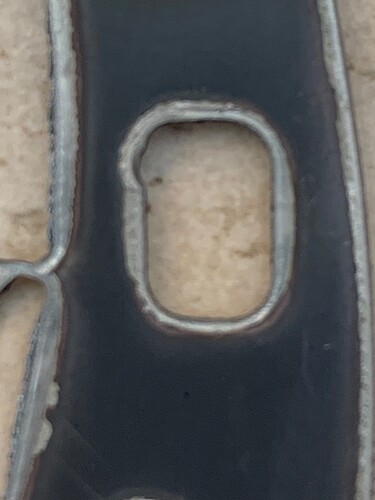 OPERATION Setup
0.045 Kerf Verified
Feed Rate 100 IPM - 200 IPM
Overcut 0.0625
Reverse Direction
Lead In - Arc 0.125 in
Lead Out - Perpendicular 0.125 in
TOOL Setup
Pierce Delay 0.2s (I tried 0.1 but it could not take a voltage reading fast enough.)
Pierce Height 0.1181
Plunge Rate 50 IPM
Cut Height 0.060
Pause at End 0s
Lean In / Lead Out - See Above.
Please also comment on the following
Is this material so thin that this is more likely to occur? (Learning on scrap.)
Will a smaller tip help?
Thanks for any help / suggestions / guidance.