I finished expanding the Y axis on my Crossfire to match the water table size. This means extended the axis 1.5" towards the torch side and 9" toward the motor side. I used 2x2 .0625 wall 316L SS tubing cut to 52" overall length for the new Y axis gantry and 52" 2x2 .090" wall tubing for the new frame brace/gantry mount. I used a 3 axis manual mill to drill the holes and I highly recommend using this method. It took under 3 hours to drill all the holes in both tubes. I tried using my standing drill press and it's just not accurate enough.
I will post CAD models and drawings if Langmuir Systems approves. I know LS is making an extension kit so I don't want to step on their toes by releasing models and drawings for this mod. I did have to slot one hole for adjustment but that can be eliminated by using your existing LS frame tube and new gantry tube as templates when making your new frame tube.
I used 1/2-10 5 start ACME lead screws and nuts from eBay. The links are below, you need 1 nut and at least 47" of lead screw. You can use the factory 3/8-8 4 start lead screw nuts and just order a replacement lead screw from McMaster if you'd like. I noticed a small amount of whip on my table so I upgraded. It is not necessary though.
Lead screw:
https://www.ebay.com/itm/304035-4-1-2-10-x-48-inch-4-foot-5-start-RH-Acme-threaded-rod-for-lead-screw-CNC/142639497551?ssPageName=STRK%3AMEBIDX%3AIT&_trksid=p2057872.m2749.l2649
Nuts:
https://www.ebay.com/itm/1-2-10-ACME-ANTI-BACKLASH-NUT-DELRIN-for-3D-printer-or-CNC-router-USA-FREE-SHIP/132826133301?ssPageName=STRK%3AMEBIDX%3AIT&var=432129744451&_trksid=p2057872.m2749.l2649
Square tube:
https://www.ebay.com/itm/Square-tube-Stainless-Steel-316-Marine-Grade-2-x-2-66-Length-16-Gauge/162644361702?ssPageName=STRK%3AMEBIDX%3AIT&_trksid=p2057872.m2749.l2649
Fire away with questions until I get the CAD models and drawings approved for release from LS. I'll run the first test cuts tonight after I dial out .020" height difference on the rail.
-Trevin
UPDATE 11/20/18
Dimensions for the New Y Axis Frame Leg and Gantry for those that want to extend their Crossfire to the same size as the water table/frame. This layout makes it possible to get VERY close or even on top of the water table edges so you must take precautions to clear the edge. You can put spacers on the Y axis rail or lead screw to stop the travel if you are worried.
Keep in mind, these are not 100% accurate for EVERY table and you need to review these and compare to your table's dimensions prior to cutting/milling. These are 99% there, the 1% variance comes from small changes and imperfections when manufacturing then assembling.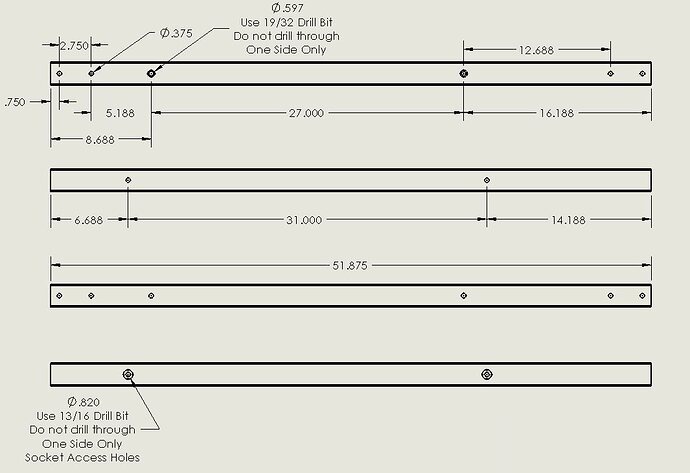 Gantry Dimensions
Take these as guidelines and DOUBLE CHECK your own dimensions and work. I cannot guarantee everything will line up perfectly and accurately. The method you use to machine these parts is more important than anything else involved. I messed up my first frame leg with an inaccurate drill press - check your tools and dimensions! Then double check based on your own math and existing frame leg and gantry. Good luck!