So I noticed this while I was assembling my Table and kept quite for awhile to see if anyone else did.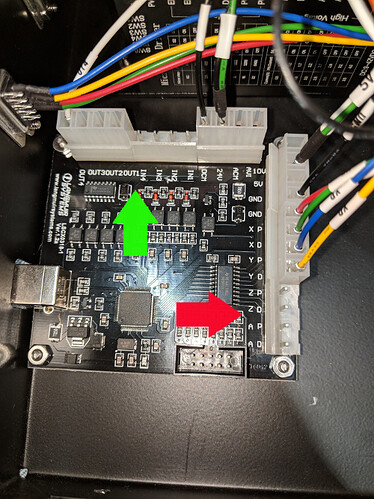 The Red arrow shows as Step and direction output for not only a Z axiz but an A axis (this is commonly referred to as a 4th axis. and used to drive a rotary spindle for round work)
The Green arrow shows 4 ins and 3 unused outs. (ins are normally used for limit switches but can have many uses, Outs can be setup for aux spindles, vacuums, exhaust fans, coolant pumps etc). Now this is just in normal CNC terms, I have no clue what Langmuir's long term plans are for them. To be honest, I'm ok with not knowing for awhile. they are still getting the business started and issues ironed out. Once they get it running well, then they can let us know. I'm just impressed that they went ahead and included these items in the controller given the low cost of the unit.