Does anyone have a cut chart for the Titanium 45A?
I flipped through this manual a couple times for the titanium 45.
They sure made it vague.
This is pretty much all the manual has on it.

It gives you an upper guideline so we can start there and start extrapolating backwards.
So it basically gives us the cutting chart for
5/8 mild steel.
45 amps, 15 in per minute, 110 PSI, torch height 1/16, this is its maximum rated setting
The spec chart also kind of gives us most of our minimum settings too.
?(thinner then 5/8") Mild sheet
15 amps, ?(faster then 15ipm) inches per minute, 80 psi, torch height 1/16th. This is its minimum setting.
Now we have two goal posts.
Everything else interpolated between these goal posts are likely proportional to these minimum and maximum figures.
I'm sure there's many people out there that have been writing down their settings they could share and slowly start filling in the blanks between these goal posts.
Maybe something like this?I just base this on the manual and few different brands plasma cutters I've owned.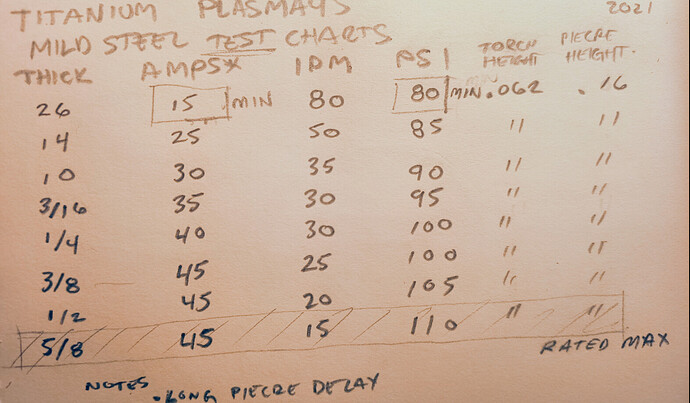 This could be way off but maybe a good starting point.
I've been using mine primarily for 3/16 mild steel and have had very good results with 40A at 25ipm with .060 cut height and 1s pierce delay. not sure about air pressure
I cut 3/16 at 45 amps ,155 imp, .050 cut height and 1 second delay. No dross at all. I will post some other cut #'s when I get chance. This titanium 45 has worked flawless for over a year, I have cut 1/2" steel plate on table with no issues clean cuts.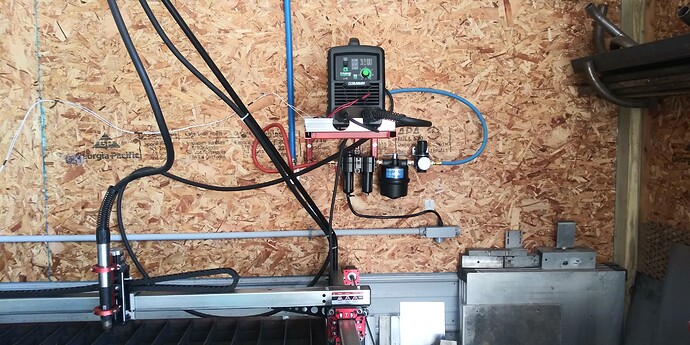 1/8" at 155 ipm not 3/16" sorry . 3/16" is 75 ipm.
what torch are you using? and does that have a significant effect on your settings? That is a lot faster than I am cutting.
I have the x45 from plasmadyn machine torch. I increased the air pressure inside the titanium plasma cutter, it has a internal air regulator . The shop air supply regulator that supply's air to the cutter is set at 110 psi.
I increased the( internal machine air pressure to 75 psi ) this gave me the best air pressure cut results with this set up. I spent a few hours testing and resetting to get it set .
Hey Thanks for the advice,
I also have the Titanium 45, so the x45 is a plug and play to the same connection?
Do you recommend it?
Also, how did you adjust the internal PSI setting?
Thanks in advance
The setup works great for me, I do recommend the setup if you are only hobby user. If you are planning on using 6-8 hours five days a week then I would invest in Hypertherm plasma cutter system!!! They are the best plasma machine hands down.
To adjust internal air pressure to torch on Titanium 45, UNPLUG FROM ELECTRICAL SUPPLY…Then remove plasma cutter housing and inside you will see internal air regulator on right side looking at front of machine. Turn adjustment knob on top of regulator clockwise 2 turns and check air psi output side of regulator with a gauge(will need to disconnect the airline from regulator to check with a Guage. You want 70-75 psi output. You could bypass internal regulator and use a external air regulator to adjust.
Couldn't unscrew the fitting to put in a pressure regulator:(
They are glued shut.
Didn't want to break anything, so i did 2 clockwise turns and will hope for the best, thank you!
A little heat will free it up.
Has anyone come up with a formal chart for the Titanium 45? Or used the chart @TinWhisperer came up with? If so how did that work for you?
Waiting for my Pro and gathering info. (Beats just twiddling my thumbs…)
BTW I'll be using the stock hand torch if that makes a difference, although I have plans to upgrade to the x45 later.
I wouldn't go with my chart I just extrapolated what I could out of the manual to get some baseline targets.
Myself I've never touched a titanium plasma cutter.
I'm not going to be there is a couple guys on here that have a lot of experience with the titanium.
The problem with making cut charts for some of these economical equipment is that a machine built on a Sunday with these components and a machine built on Wednesday with those components are going to perform a little differently in the real world.
I understand, but being a complete noob here, your guess is probably much better than my current knowledge. And if no one has a more experience based chart at least it will give me a better idea of where to start. I know @rat196426 is using the Titanium with an x45 torch and his post above is also a good starting point although I'd probably have to adjust it for the stock torch.
Fair point…