Good luck with the new system. I'm sure you'll get hooked like the rest of us.
Fellow Hoosier (Evansville) so obviously THE most important question is IU or Purdue fan?
I'll allow Notre Dame as a religious exemption.
I live about 20 miles north of Bloomington, so proximity says I should be an IU fan boy, however I have more the mind of an engineer so possibly I should be leaning more towards Purdue. But truth be told I'm a Tennessee transplant, so inside I'm really a Volunteer!
Welcome. I always say it is easier to learn something when you already have something you want to make. You have a good start on it.
Well it's happening. I have tracking numbers! Yes, I know that's not the same as shipped, but it is baby steps.
Question: I have three tracking numbers which I assume are for the three boxes for the table. I also ordered the THC and the limit switches, are they in the electronics box? Or will they ship separately?
Anticipation!
When I bought mine, the THC was with the main deliveries. The limit switch kit did not exist.
However, I ordered it in Nov and it came in a "stand alone" looking package.
Well, boxes 1 and 2 have arrived so far, along with the THC. Starting to get things inventoried and sorted. I did manage to 'rearrange' my cluttered garage to make some space.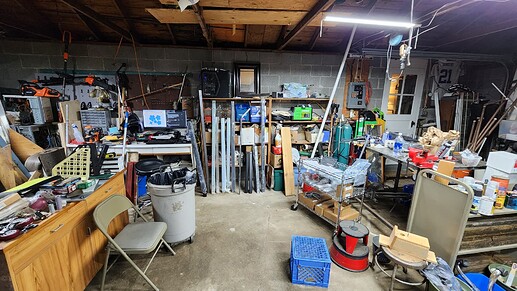 My wife recently brought this cart home from work, one of the casters had unscrewed itself and buggered up the threads. I chased the threads and it was as good as new. And it proved to be perfect for sorting out the hardware and electronics!
Still waiting on box #3, per Langmuir it is supposed to ship today, but as of the time I'm typing this, their offices have been closed for a half hour and the UPS app still only says a shipping label has been created… sigh…
Still, I can start on the frame, so not all is lost.
I got my last box before I got notification it had shipped. It was a nice surprise… hoping for the same for you.
Thanks! I could use a good surprise…(ominous foreshadowing!)
So I was chugging along and making pretty good progress, completely enjoying the build process. Very therapeutic. Then it happened. A screw stripped when I was adjusting the Y-axis bearing blocks. I had three of the four done, so I know it wasn't me going gorilla on it. So I tried the second screw on that block, it also stripped, as did the two on the other adjustable block on that assembly. Just for kicks I put my hex key in one of the cap screws holding the fixed bearings. Yep, stripped with almost no effort… Well crap.
I measured the internal holes at ~0.244 in, which is way over sized for 1/4-20 so I'm thinking this one plate was drilled incorrectly.
I fired off an email to Langmuir, but of course it's Saturday so I won't hear back until Monday at the earliest. I imagine I'll be waiting on a new plate for the bearings, so I'm at a standstill until then.
It's 5 o'clock somewhere, so I think it's time for a cold one.
(edited for a grammatical mistake, which I caught AFTER a good beer. mmmm…beer.)

I think I'm going to continue to use this thread as a sort of blog space, unless there is a more appropriate place for it? For now I'm just going to forge ahead with it.
As it turns out @72Pony wasn't far off the mark. Today box 3's status changed in the UPS app. It shows an origin scan…in Hodgkins, IL?!? I'm pretty sure Langmuir didn't drive all the way to Illinois just to drop my box off at UPS so somehow it ghosted through the system. Oh well, they say it's scheduled to be delivered tomorrow, so I'm not complaining, just shaking my head. Also Langmuir is sending me a new bearing block flange assembly, so I'm hoping to have that by this weekend so I can get back to the fun.
Cheers everyone!
@Martorious
Well it is nice to see someone who understands the limits of the day and enjoys a beverage after work well done…
now there may have been something wrong with the part so send pictures to langmuir on a service request and see what they can do…they might send you a new part…you never know…
as for your shop…you are going to be pissed off after a few months of cutting finding the black dust of death all over your stuff…
Please make sure you have the proper PPE on for breathing.
Also look at some ventilation or exhaust for the area above the table…
Im lost here? the hole measures .244 1/4" =.250 how is that oversize?
Tap drill size for 1/4-20 is 13/64" or 0.203" since you have to have enough material for the tap to cut the internal thread.
Think of it this way.
When measuring a 1/4-20 bolt across the threads with a caliper you'd be measuring the peaks of the thread and it should be ~0.250".
The diameter of a 1/4-20 internal thread measured at the valley of the thread should also measure pretty close to 0.250" plus enough clearance for the peaks of the male thread, however the measurement at the peak of an internal thread, which is how I was measuring, should be significantly less, closer to the tap drill size.
As measured I was only getting 0.006" of engagement across the diameter which means I was really only getting 0.003" of engagement at any single point of thread. Not nearly enough contact area to hold.
My mistake I really started reading at the bottom of the pic with the calipers and did not realize you needed a threaded hole. Next time if my question seems off, please ask me to read again. I apologize for taking up you time to answer something that was obvious in the post.
Welcome to the Forum! Beware! Plasma Project Disease, Adult males very susceptible, Symptoms'; continual complaint as to the need for a constructive hobby, Blank expressions, sometimes deaf to kids and wife, Always haunts garage or work shop, wont do work around house, Has nose in Plasma Cutting software and designing projects, the need to share information on the Forum. There is NO KNOWN CURE, the DISEASE NOT FATAL… Victim should design and cut projects as often as possible. Have fun!!
No problem, @Knick, its one of the reasons I'm here. To share info. I won't let the fact that you knew it all along detract from the pleasure of my teaching moment.

I knew my condition had a name!
Good news! Box 3 was delivered today. Yay!
Bad news, I'm out of town until Friday… Boo!
Ah well, I'm still waiting on the replacement bearing flange plate before I can proceed anyway. I'm thinking that I need to go back over the Y-axis bearing adjustments, I'm not sure I left everything loose that was supposed to be loose while I did it. OK, yeah, that might be an excuse to extend the build time. While I do want to finish so I can cut something, I am enjoying the build process tremendously.
That's it for now,
Cheers everyone!