well, I've been using the crossfire and everlast 60s for most of the summer without any major issues. Today I cut a few pieces with no problems but on the last piece I hit a spot where it skipped cutting. So I stopped it backed up the program and tried cutting again with new consumables it skipped in the exact same spot. tried maybe 4 times with the same results and couldn't find anything wrong. it skips the exact same place every time. with new or old consumables. This is what it looked like.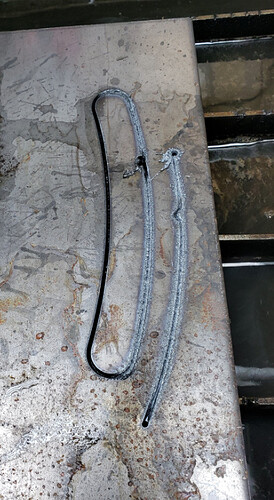 So I took the torch off the machine and discovered the trigger switch doesn't work, I was going to cut the part out by hand but couldn't. So I took the torch apart and saw that the trigger is wired through 2 commutator contacts that have the cap as part of the circuit. They are little pin plungers that just touch the brass in the cap. one is pressed all the way in and won't come back out. the spring part is buried in the plastic.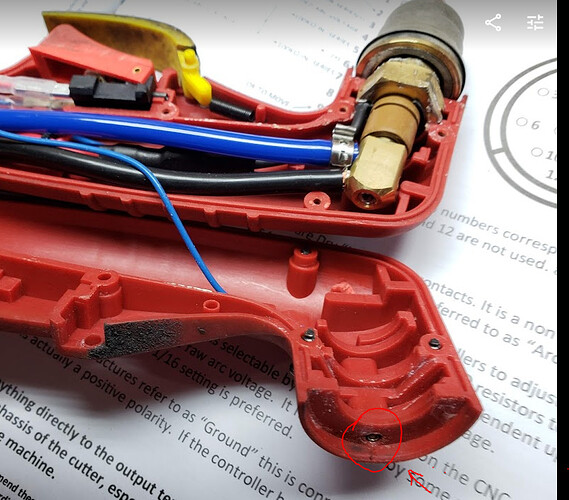 I called everlast and spoke to their tech guy and customer service. Very informative and offered to replace the torch but he told me how to bypass it. These are there to prevent someone from firing the torch without the cap on and can get gummed up in use, but I think the reason it's stuck on mine is this area is exactly the part I use to clamp the torch in the machine and may have deformed the plastic causing this to get stuck. the clamp left marks right outside this area.
On the skipping issue. we discussed everything I did to diagnose it and the only thing we came up with is it might have lost connection to the work clamp. Also, he said that if I put a clamp-on ammeter on the work clamp wire I'll see if that's what it is because amperage will go to zero. I have 3 ammeters meters and none will do DC but I'll have one soon so I can watch this and see if it works. I would like to see if I can find a needle-type or make one (ill need instructions) because I don't think the digital kinds read fast enough if it's an intermittent drop in the connection. There was lots of other good info come out but this is long enough so, to the point, the other issue it could be is a clogged swirl ring thats causing this. I'm going to check over the air system pretty carefully and report back if I find the culprit because this random cutting problem crops up here often and it would be good to have a definitive answer we could point to.